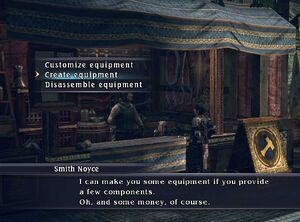 The Workshop is an NPC shop where you can upgrade your weapon or shield and create or disassemble equipment. A workshop can be found in every town and will be available after you finish the quest Mr. Diggs.
This is a list of all the equipment you can create in the workshop. If an item requires a certain customization level, you will need that exact level in your inventory for the item to show up in the workshop (ie having Legendary does not give you Basic or Professional). Some items will appear as soon as you have one of the components, but all of them will show up if you have them all (and the customization rank of course). If you want to know exactly which component is needed for the item to appear in the workshop, follow the item's link.

Community content is available under
CC-BY-SA
unless otherwise noted.