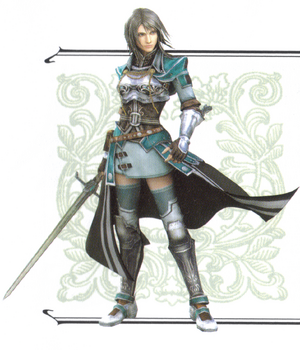 About me
Just a student that probably has a little too much time on her hands. Love the SaGa series, but I don't mind a little mindless fun from time to time. 戦国BASARA, Devil May Cry, Bayonetta and Touhou/eXceed tend to fill that void. Love Fire Emblem for some RNG+tactical fun. Also quite fond of shooting things for stress relief, virtual and IRL. Archer in training, though I tend to spend more time tuning or repairing than shooting~
SOIAO and X360 runs are on hold until I get more time/feel motivated to play. Looking for rares again in the SOIAO run. Currently hanging around the provinces of Skyrim and Cyrodiil, while popping into Iris/Warm from time to time. Currently going through Lunatic and recording growths. Also being thoroughly distracted by all the shiny guns in Borderlands... and being a sneaky little thief/assassin.
High res scans are done, along with map scans. May redo character scans as colour looks a little off.
Stuff I've been poking at
This is where you'll find things that probably need to get done at some point. Will involve a lot of research, that's for sure.
Sandbox - As the name implies, just something for me to play around in. Currently working on Material Tables (have an idea, refining it before going through). Equip Tables have been added to the wiki. Working on Equipment Requests to go along with it (almost done). Will begin work on Upgrade Tables.
Unit Growths - There are a lot of units, so this will be fairly slow. Doing this for my own amusement... On hold since I'm nowhere near the Icy Idol.
Equipment Growths - Finished...
Unit Clips - Well, I extracted the voice clips (any PC player should be able to), so I've started to transcribe them. Quite a few unused quotes. Those are always fun.
EXP Tracking - Just noting some EXP gains while playing. Nothing major here. X360 notes are there, not much though
LasRem Guide - A bit of a pet project. A general guide of the game, but not a walkthrough! Always a WIP.
IA Damage (PC) - Collection of IA damage values, as well as logging any interesting behaviours I see.
BR Tracking - Collection of BR gains from various fights.
Don't think I can add ages for units that aren't story characters, so here they are:
Nora - 28 (it also says that she's half-Remnant)
Violet - 22
Glenys - 23 (likely a member of the queensguard, either reincarnated, slipped through time, or something else. might be part of Flaumello IV if her bonus talk is to be believed. or could be the collective consciousness of the kingdom... WMG ensues!)
Khrynia - 16
Emmy - 21 (added to her profile. she was originally supposed to be 19).
Spoiler warning: From AGO run
The Ivory Peaks
Crookfen
Darken Forest
Mt. Vackel (finally spawned Spiritbeast Rin)
Fornstrand
The Great Sand Sea (stupid Pale Leafhopper...)
Vale of the Gods
The Southwestern Road (good thing I didn't spawn The Lost yet...)
Heroic Ramparts
Dillmoor (exploited the trainer by using another rare, changing its stats and model. noticed a pattern in the their HP based on race, so I took advantage of that. still went to the appropriate area just in case as it may be tied to their scaling)
Berechevaltelle

The Ancient Ruins
Lavafender
Ruins of Robelia Castle (Baroque Pearl is weird...)
Gaslin Caves (Ogreface and Longtail Soldier took too long. Still waiting on those Yellowcaps to spawn...)
Blackdale (forgot about Deathpuppet's spawn gimmick. kinda like Sirrush, only not as deadly.)
Blackdale Second Entrance (seems like the Deathpuppet doesn't want to come out to play...)
Flaumello Tower (Glitter Lizard, how I hate thee.)
Wyrmskeep (Bandit being persistent with not spawning...)
The Aqueducts (Snowtoad dead!)
Yvalock's Nest (Yvalmocks without Yvalocks means that there can be another rare hanging around)
The Great Subterrane (it's a small place, easy enough)
The Catacombs (forgot to take a pic of the Onmoraki...)
Mojcado Castle (damn Millipede taking forever to spawn!)
Aveclyff (Whitehorn was surprisingly painless to spawn... Eye of Flame on the other hand... !)
Numor Mine (Redcap Champion finally dead.)

The First Path
The Second Path (using those maps really speeds things up... now where are those Yellowcaps?!)
The Third Path (OK, sorta. found Distress in the Second Path)
The Fourth Path
The Fifth Path (too easy...)
The Sixth Path (Dreamwatcher get!)
The Seventh Path
Spoiler warning: From SOIAO run
This time, much more thorough with BR and HP ranges. Haven't started yet.

Dillmoor - all rares found, captured
The Ivory Peaks - all rares found, captured
Vale of the Gods - in progress
Heroic Ramparts - in progress
やりこみ time!
This is for me to keep track of what types of runs I've done so far.
Challenge
Normal
Hard
Comments
Normal
55
N
Honestly, I have no idea why I haven't done this on Hard yet~
IA Only
N
N
Seen it done.
MA Only
N
N
-
CA Only
N
N
Also means no healing is allowed as they're not CAs. No EAs either.
Soldier Only
75+
85+
Don't remember the ending BRs. Will probably redo.
SO IA Only
N
N
BR21. Still no progress, being distracted by ファイアーエムブレム覚醒 and school. It's almost exam time too... Just so that I don't forget: 26 Jhana encounters so far. Got a long way to go for the Redcap Champion.


Still no idea about Rank 4. Not much to go on right now... Will likely keep a separate file to go combat crazy.

SO MA Only
N
N
-
SO CA Only
N
N
-
Generic Leaders Only
N
49
Screwed up the Duke's quest. Just finished it.
GLO IA Only
N
N
-
GLO MA Only
N
N
-
GLO CA Only
N
N
-
Girls Only
N
N
Have done, but don't remember BR.
Generic Girls Only
N
N
Have done, but don't remember BR.
Unique Girls Only
N
N
Have done, but don't remember BR.
Athlum Only
N
86
Finished! 16 Turns, most unions standing!
Celapaleis Only
N
N
-
Elysion Only
N
N
-
Mitra Only
N
N
-
Yama Only
N
N
-
Qsiti Only
N
N
-
Sovani Only
N
N
Watched on NicoDou. Player finished at BR129, Hard.
The Silver Falcons
N
N
-
The Order of Melphina
N
N
-
Former Third Committee
N
N
-
Undelwalt Guard
N
N
-
Mercenaries
N
N
-
Guard Monks
N
N
-
OH + Skills
N
N
-
PG + Skills
N
N
-
DW + Skills
N
N
Very limited in terms of usable units.
BR255
N
N
Yeah. That's right. A very likely impossible run. Let's see what happens! Later.
Absolute Low BR
N
N
Seen it done on the PC on Normal. Ending BR? 12.
Any run with Unique Leaders may be trainer-assisted to give them their Skills and Focuses as early as possible. I don't like being bothered at various BR levels. Will probably be very slow. This may or may not put me at a disadvantage (dependent on unit). On one hand I get what I want. On the other, I may have to train more Skills than a normal run, especially Lotions users. This can potentially screw up class progression if I'm not careful. I will state if the run is trainer-assisted (there's usually going to be some sort of poking around while I'm at it).
The National Runs are Generic Only. I will state if it's a trainer-assisted run as some National runs may not feasible without hacking in units. Same goes for the Emblem runs.
I've probably done a few more, but don't actually remember what I've done during the game. I've repeated Soldier Only a few times as well, improving each run by a few BR.
I wonder how many of these are feasible on the X360...? Other than the obvious.
JP Guide and Other Stuff
Was working on a little something from a while ago. Constructed a table of possible ending classes for both the PC and X360 versions. Can be found here (PC) and here (X360). Both of them still require a lot of tweaking, so I'll get on that. X360 getto, so let's see if my reasoning holds...
Also went through the JP as thoroughly as possible, extracting little bits of info, supplementing it with experiences, PC differences and the other JP guide. Nothing was taken from the EN guide, mostly because it's a piece of crap. It's funny how it outright states certain things, and yet remains mum on certain subjects. Funny little thing. It's still a WIP because I haven't gone through the trivia, columns, etc., and proofreading it a bit more thoroughly.
Chapter 1
Chapter 2 Part 1
Chapter 2 Part 2
Chapter 4
Chapter 3 was omitted because it was the main walkthrough. I may scan the maps because they point on where all the rares will spawn. It's a clearer picture than the maps here, and some people (like me) don't like reading coordinates. There's also the quest page, which gives a path of how to navigate certain quests.
Enemy Data
The data is based off of the Official Complete Guide published by Square-Enix.
| Race | Class | Lockup | Slash | Bludgeon | Maul | Pierce | Flame | Thunder | Frost | Lytic | Venom |
| --- | --- | --- | --- | --- | --- | --- | --- | --- | --- | --- | --- |
| Oculus | Archfiend | 3 | Resist | | | Weak | | | Weak | Weak | Resist |
| Butterfly | Winged Insecta | 1 | | Resist | Weak | | Weak | | Weak | Weak | |
| Amoeba | Faerie | 1 | Resist | | | Weak | | Weak | Weak | Resist | |
| Albic Qsiti | Beastman | 1 | | Weak | Resist | | | Weak | | Weak | Weak |
| Imp | Mystic Fiend | 1 | | Weak | Resist | | Weak | Resist | Weak | | |
| Vulture | Avian Fiend | 1 | Weak | Resist | | | | Weak | Resist | | Weak |
| Spiritlord | Archfiend | 3 | | Resist | | Weak | | Weak | | Resist | Weak |
| Azhdaha | Land Dragon | 1 | Resist | | Weak | | | | Resist | Weak | Weak |
| Colossus | Beastman | 2 | | Resist | Weak | | Weak | Resist | | Weak | |
| Chimera | Mystic Fiend | 1 | Resist | | | Weak | Resist | Weak | Weak | | |
| Crab | Mystic Fiend | 1 | | Weak | Resist | | | Weak | Resist | | Weak |
| Grand Spider | Land Insecta | 1 | Weak | Resist | | | Weak | | Weak | | Resist |
| Grand Beetle | Land Insecta | 2 | Resist | | | Weak | Weak | Resist | | Weak | |
| Jhana | Beastman | 1 | | Resist | | Weak | Resist | | Weak | Weak | |
| Demon | Mystic Fiend | 3 | | Resist | | Weak | Resist | Weak | Weak | | |
| Dragon | War Dragon | 3 | Resist | Resist | Resist | Resist | Resist | Resist | Resist | Resist | Resist |
| Treant | Plantae | 1 | | Weak | Resist | | Weak | Weak | Resist | | |
| Hydra | Mystic Fiend | 1 | Weak | Resist | | | | Weak | | Resist | Weak |
| Phantom | Darkfiend | 1 | Resist | Resist | Resist | Resist | Resist | Resist | Resist | Resist | Resist |
| Fenris | Mystic Fiend | 1 | Weak | | Resist | | | | Resist | Weak | Weak |
| Fly | Winged Insecta | 1 | | | Weak | Resist | Weak | Resist | | Weak | |
| Vile Lizard | Mystic Fiend | 1 | | Resist | Weak | | | Weak | | Weak | Resist |
| Homunculus | Darkfiend | 1 | Resist | Weak | | | Weak | Weak | | Resist | |
| Maneater | Plantae | 1 | Weak | | | Resist | Weak | Resist | | Weak | |
| Manticore | Mystic Fiend | 1 | Weak | | Resist | | Weak | Resist | | Weak | |
| Raptor | Mystic Fiend | 1 | | | Resist | Weak | Weak | Resist | Weak | | |
| Landworm | Land Insecta | 1 | | Resist | Weak | | Weak | | Weak | Resist | |
| Leapfrog | Mystic Fiend | 1 | Weak | | | Resist | | Weak | Resist | | Weak |
| Oarfish | Faerie | 1 | | Weak | Resist | | Resist | Weak | Weak | | |
| Wyvern | Sky Dragon | 2 | | Weak | | Resist | Resist | | Weak | Weak | |
| Mitra/Yama/Qsiti | Mitra/Yama/Qsiti | 1~3 | | | | | | | | | |
| ?/Bosses | ? | ? | Resist | Resist | Resist | Resist | Resist | Resist | Resist | Resist | Resist |
| Remnant | Remnant | 3 | Resist | Resist | Resist | Resist | Resist | Resist | Resist | Resist | Resist |
| Idols | Idol | 3 | Resist | Resist | Resist | Resist | Resist | Resist | Resist | Resist | Resist |
| Mitra/Qsiti/Yama | The Seven | 3 | Resist | Resist | Resist | Resist | Resist | Resist | Resist | Resist | Resist |