I've been playing this game since April 14th, 2009. After getting completely useless information from the "official" strategy guide which I wrote them one nasty note, I ended up starting over. There's a fine line between spoiler free and getting quests completed properly or else..
So I've stumbled upon this site, wanted to add a few things since I've spent so much time on this game (XBOX 360) version that I thought its about time I would contribute to the community.
Especially getting annoyed by the bad rendering blue Jhada creatures that seem to have been one of the 'to do lists' that never really made it and since its at the ending of disk one and depending on how high you are, you may never see them. Its like crudely rendered graphics. I seem to sniff these out when I want to find any and everything...

!----
Acevlyff Rare Spawning
Removing the default assumption that the requirements are met regarding quests (full map unlock) and Bosses killed, here is my order so far killing these guys:
Boss
Boss
Nightmare (big delay between my return to Acevlyff)
Nordi
Wakinyan (took a long time to figure out why correct spawn didn't produce other rares until I stopped looking and found this!!

meaning my attempt to get whitehorn with 100% spot on spawn requirements were rejected so there had to be another rare to kill and this was my delay so far.

Senton (same problem to which Wakinyan delivered)
Medusa
Whitehorn ( 2X Blackwings, vicious plants, and no arachnid upon entering was the key!! )
Yet to Spawn, Eye of Flame (updated)--Nirromyug 18:58, November 2, 2009 (UTC)
The Single Serving "Jumping Point"
As an added bonus to going back a third time to each location, there is a "jumping point" such as the one in Blackdale, The Cuspate Post. Mind you, you can't use the tablet, walk to the next room, save-exit out, and return back to the room because it won't work. You have to back out of the Dungeon completely in order to allow Mr. Diggs the opportunity to get suctioned into a void for a brief period of time for some fabulous and exciting bonus prizes. To my dismay, when Mr. Diggs returned, so did the brand new jumping point. I hope when I return someday to these collective few spots, they do regenerate if I do make a disappearing act to the World Map first!--Nirromyug 19:16, September 24, 2009 (UTC)
Mystery All Blue Monsters
Captured one on camera so everyone can take a peak at it but its appearing more and more with random monsters and i'm about to flush the hard drive soon to see if that helps. Don't have any slowdown problems with the game so its anyone's guess!!--Nirromyug 05:02, September 23, 2009 (UTC)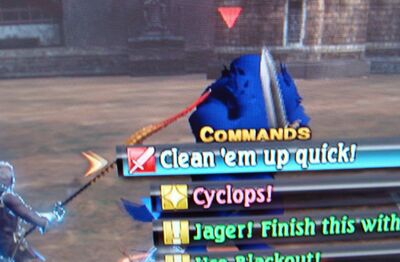 Lucky Day
Must be my luck but every opportunity to obtain a rare monster via a new quest seems to work out, especially those that are required by the guilds. This never happened the first time around. My only stumbling block is Sledgehammer. Wow. Talk about starting to rival my nerves like Dominator did before I knew about what to look for. This guy I do!! I'm just attacked to frogs and big fat spiders ruining my show. I'll get it one of these days...--Nirromyug 15:00, September 14, 2009 (UTC)
---
New Movie Made/Screening in My Small Town
I didn't know this but there is a movie out this weekend, screening only in my hometown, about "the Welcomers" who greet the soldiers who come home from fighting in Afghanistan and Iraq. I saw them doing this twice when I few down to Florida to visit my grandparents and hear clapping going on. It was pretty overwhelming what they do. Well now someone made a documentary about them and it was given huge reviews from Rotten Tomatoes. The Way We Get By I just hope you take a moment and see the preview because the movie is selectively being shown across America probably until the Academy Awards!! But enough seriousness, on to gaming.--Nirromyug 15:00, September 14, 2009 (UTC)
---
Major Setback
Three days going back and forth to the ER with incompetent doctors let alone the distance is 164 miles round trip. I've been told to go a fourth day because of all things, they forgot to give me the medication and to be honest, I'd rather suffer than drive that much for it but I just can't keep up with the driving like this. All for something so stupid that its not my problem but theirs to remedy. I don't even want to mention what happened but it did unfortunately and now I'm up the creak without a paddle if you know what I mean!!!! I now can't walk for two weeks from it, that's how bad its gotten.--Nirromyug 01:37, October 11, 2009 (UTC)
Quietly Healing Here
One more tidbit info about me, I'm currently in treatment right now, my RBC, WBC, and HgB's are moderately low so in order for me to distract from the daily nausea and other dreadful stuff, I've been trying new things to escape reality while my body regenerates and to be 100% honest with everybody here, yesterday was the first day I did not have nausea/vomiting in 8 weeks. I can tell you that I've tried everything except one to stop the nausea and they have all failed me so now my last ditch effort was some unorthodox method of going back to doing something I love, staying distracted from reality, and knowing "this" will all be over soon. --Nirromyug 15:00, September 14, 2009 (UTC)
Looks like I'm dropping too low now and more meds but you know what, video games, help forget! I like that thought. :) --Nirromyug 17:28, November 2, 2009 (UTC)
Community content is available under
CC-BY-SA
unless otherwise noted.