For any other Siebenbur Path, see Siebenbur.

An underground cavern that has been maintained from the days of the Imperator. It has entrances from every region, though no one knows why this is so.
This location has one area. It is non-missable. Connects to The Seventh Path through The Final Fortress.
Available after the events at Koenigsdorf if the First, Second, Fourth, and Fifth Paths have been unlocked, or once you have spoken to Oswald.
The Sixth Path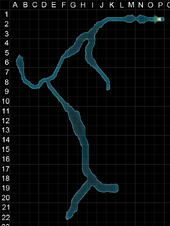 Local Bestiary
This lists all the monsters that appear in this location. Both monsters from the primary group are always present. You can get one monster of the secondary - either one of the regulars or one of the rares. All rares at this location can be spawned without having to kill another rare first.