Welcome to The Last Remnant Wiki
The wiki about The Last Remnant that anyone can edit. We have 3,898 articles since December 17, 2008.

Thank you for visiting The Last Remnant Wiki, a wiki dedicated to the Square Enix Xbox 360 (Nov. 2008) and PC (Apr. 2009) Unreal Engine 3 JRPG, The Last Remnant. The game itself can be purchased many places, including Amazon for Xbox 360 and PC. The PC Steam version has stopped distribution as of September 4, 2018. The Last Remnant Remastered was announced on September 11, 2018 for PS4, with a release date of December 6, 2018. The remaster was released on Nintendo Switch on June 10, 2019 and December 12, 2019 on iOS and Android.
Popular Links
If you have information to add, or have a suggestion, feel free to pitch in - each contribution is very much appreciated. The goal is to make this the best public source of The Last Remnant info available. If you've found this wiki useful, please spread the word. Thank you for your help!

Please note that several quests are missable and can't be completed after reaching certain story points. The individual pages for the walkthrough will warn you when quests are about to be forever missed.
Participate
Use this box to create a new article:
Not sure where to start?

If you are new to wikis, check out the tutorial.
Help Out
Torgal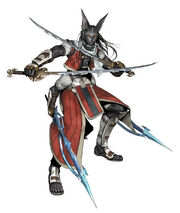 Torgal is a sovani, a race known for it's incedible longevity. His four arms make him a powerful battlefield presence. The sovani race generally keeps to themselves, making it unusual that Torgal would work for Athlum-especially in such a prominent position. Somewhat detached (as befits one whose lifespan exceeds all the other Generals' plus David's ages combined), he is nonetheless a loyal servant of Athlum and is considered leader of the four generals.