A massive castle wall built by an ancient Lord of Nagapur. It is often referred to as the Ramparts of Shame by those opposed to its existence.
This location contains one area. It is non-missable and unlocked by story events.
Heroic Ramparts
Edit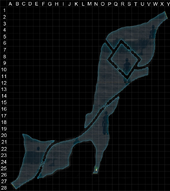 Local Bestiary
This lists all the monsters that appear in this location. You can get one of the first groups (both monsters listed for the group) together with one monster of the second - either one of the regulars or one of the rares. All rares at this location can be spawned without having to kill another rare first.

DLC Monsters
The Jhana Royals will appear on the map once you have 18 active party members and the Eye of the King in your inventory. From then on they will be present and block all other secondaries and rares until defeated on the XBOX.
Community content is available under
CC-BY-SA
unless otherwise noted.