The Last Remnant was released for the PC in March 2009, several months after its November 2008 launch on the Xbox 360. In that time, the developers made numerous improvements to the PC version in response to many of the criticisms leveled against the original game.
The most notable changes include the addition of a Turbo Mode for battle animations, much more freedom in union creation, a New Game Plus feature, and a major overhaul to the statistics and attributes of most items, characters, and enemies.
The following is a list of all known differences between the Xbox 360 and PC versions of The Last Remnant.
Battle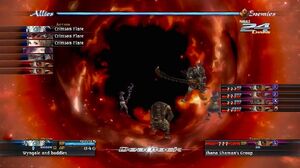 Items
Units
Sidequests
New Game Plus and Hard Mode

After the epilogue and credits, you can now save your game. When you're taken back to the main menu, you can load this save to begin a new playthrough that carries over certain elements from your previous playthrough. This is colloquially known as a "New Game Plus".
Please see the New Game Plus page for detailed listings of what carries over between playthroughs and strategies for optimizing multiple playthroughs.
Upon loading Game Completion data, you will also be given the option to start the new game in Hard Mode. In Hard Mode, monster's attacks are much stronger. Hard mode save files display the player's Battle Rank in red, instead of the regular orange color.
Miscellaneous